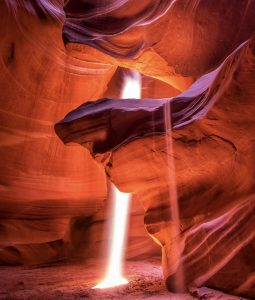 To ensure you can visit, schedule and make a tour reservation with a local Antelope Canyon tour guide company.
Antelope Canyon, located near Page, Arizona is home to one of nature's most wondrous creations – the slot canyon. Carved from the red sandstone for millennia by seasonal flood rains and wind, the canyons are narrow passageways that lead several hundred feet away from the mouth. The gorgeous sloping angles of the rocks – coupled with the shifts of light that make their way down from the rim of the canyon – combine for a scene that cannot be fully explained with words. Only 8 to 12 feet wide along the sandy floor, the slot canyons have been featured in Hollywood films and magazine publications around the world. But none of those images can match the one you'll experience when you step into the canyons and see this wonder for yourself.
To the Navajo, we call the Upper Antelope Canyon – Tsé'bighanilí – which means "The place where water runs through." For Lower Antelope Canyon, we call this place Hasdestwazi – which means "Spiral Rock Arches."
The best times to visit:
If you are looking to take photos of the sun beaming into the canyon, book a tour with the tour groups in Upper Antelope Canyon around 11am to 1pm for the months of March to October. To get extra time in the canyon, book a tour with a photography group – there may be an extra fee to book this type of tour.
If you want to do a little hiking and want a little more seclusion, book a tour for the Lower Antelope Canyon area. This portion is not as busy as the Upper Antelope Canyon.
If you want less tourists, visit during the months of November to March.
For viewing the Antelope Canyon, a permit and a tour guide is required. The tour group will assist you in purchasing the permit.
Admission: $8/person/day
For more information contact:
Antelope Canyon Tribal Park
P.O. Box 4803
Page, Arizona 86040
Google Maps
WARNING: Flash flooding can happen at any time. Please heed the warnings placed by the local tour companies and emergency messages announced by the Navajo Parks & Recreation Department for your safety.
Upper Antelope Canyon Tours
Lower Antelope Canyon Tours
Lower Antelope Canyon is a global destination for photographers and adventure seekers. We offer tours throughout the entire Lower Antelope Slot Canyon.
Call Us : (928) 645-6997
BOOK ONLINE
Dixie's Lower Antelope Canyon Tours

Visitors begin their guided tour with a short 10-minute walk from the check-in booth to the entrance of the canyon. Athletic shoes with grip tread are recommended. The tour will begin by descending down 5 flights of metal open grip staircase into the sandstone cavern.
There are items that are not allowed on the tour, such as, GoPro's or live-action cameras, selfie sticks, tripods, backpacks, purses, hydration bags, drones, service animals — for a full list of prohibited items, visit our website.
Call Us : (928) 640-1761
Email Dixie's Tours
BOOK ONLINE
Canyon X & Cardiac Canyon
Taadidiin Tours
Taadidiin Tours is happy to be the only tour operator to offer guided tours to Antelope Canyon X and Cardiac Canyon. Both canyons are located within the same canyon as the iconic Upper Antelope Canyon and Lower Antelope Canyon. Taadidiin Tours is located approximately 10 miles southeast of Page, AZ, on Highway 98 at milepost 308. Many people also visit us from Las Vegas, Sedona, Flagstaff, and Phoenix. Reservations are recommended for holiday weekends. Taadidiin Tours specializes in small groups to provide the most memorable customer experience possible. Reserve your tour today!
Call us at (928) 660-8890
BOOK ONLINE
Waterhole Canyon Experience
Waterholes Canyon Experience, LLC is a Navajo family owned and operated tour guide company that offers guided tours through the slot canyon known as Waterhole Canyon.
Call us at (928) 660-2031
Located 5.5 miles south of Page, AZ @ Milepost 541.5 on Highway 89.
BOOK ONLINE