Bisti Badlands
Step back into history – say, 65 million years back – and get a feel for the ancient vistas at Bisti Badlands Wilderness Area. The peculiar soft clay formations are spread over a vast moon-like valley, and some of the domes can literally erode before your eyes during the rainstorms of Navajoland summers. Within these opaque ridges of bizarre geologic beauty are scientific tales about the demise of dinosaurs and the ascent of mammals.
There are no signposts pointing the way to the Badlands from any nearby towns, but the usual approach route is along NM 371 from Farmington, the largest town in the Four Corners region – this heads due south through wide open prairie land at the east edge of the great Navajo Indian Reservation, which extends for 200 miles across into Arizona. After 36 miles, a gravel track exits east, opposite an historical marker recording the history of this area and of the nearby Bisti trading post, now derelict. Oversight is provided by the Bureau of Land Management.
Translated from the Navajo language, Bisti (Bis-tie) means "a large area of shale hills." De-Na-Zin (Deh-nah-zin) takes its name from the Navajo words for "cranes."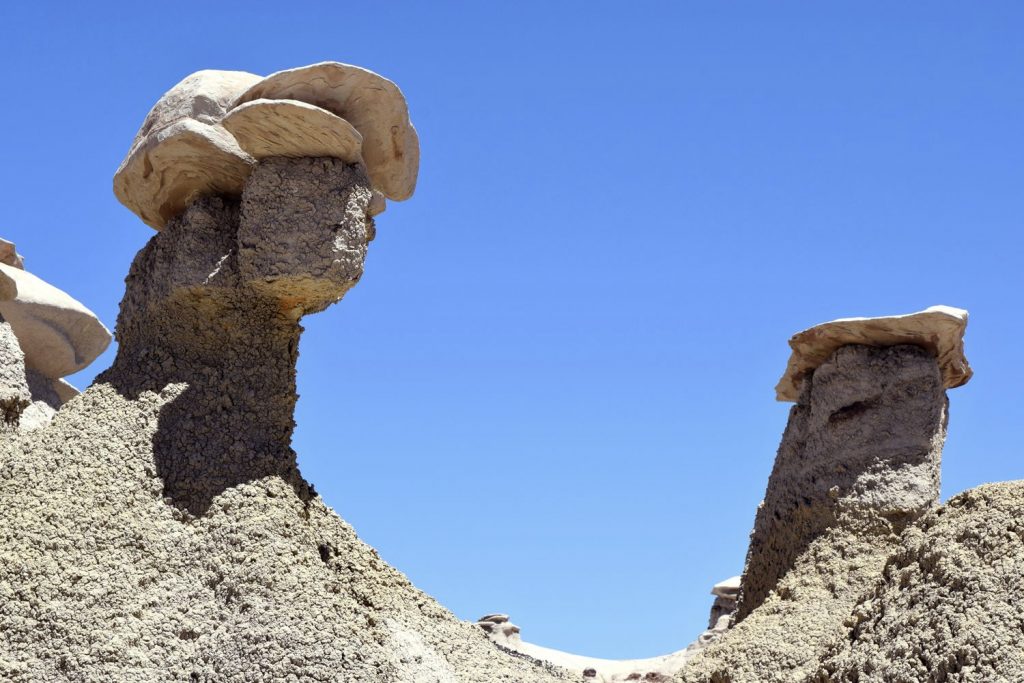 Navajo Tours USA
This Navajo-owned Tour Company will help you plan your trip to various parts of the New Mexico portion of the Navajo Nation. They offer amenities during their tour. Schedule an appointment through their website below.
TOURS OFFERED on NAVAJOLAND – Hiking, Camping, and can guide night photographers into areas such as the Bisti Badlands area!
For more information contact:
BOOK YOUR TOUR
SAFETY FIRST. Let someone know you are hiking in the Bisti prior to arriving. Give them details on what time you intend to arrive to Bisti and what time you will be back in your vehicle or home.
HEADS UP: Cell phone reception is spotty.
Bring lots of water.
Wear good hiking shoes.
Wear a cap or bring a portable umbrella. Wear sunscreen.
There are no marked trails.
Check the weather before visiting. Roads and terrain may become impassible in wet weather.
Watch for flash floods in the wash.
No onsite facilities available.
Bring a GPS unit or compass to help navigate the area. It is easy to get lost while exploring. TIP: Keep an eye on where the wash is. You can always come back to the wash and find your way back to the parking area by following it to the west.
An early relative of Tyrannosaurus rex, the Bisti Beast (Bistahiaversor sealeyi) was discovered in 1997 by Paul Sealey (New Mexico Museum of Natural History and Science). The fossil was excavated in 1998 from the Bisti/De-Na-Zin Wilderness by paleontologist Dr. Thomas Williamson, Ph.D. This was one of the first paleontological excavations performed in a Federally designated wilderness area.
This 30-foot tyrannosaur roamed the Earth around 74 million years ago and to date has only been found in New Mexico. The Bisti Beast is a member of the same family as its more famous cousin, Tyrannosaurus rex and would have looked like a slightly smaller version of T. rex. The Bisti Beast was an extremely rare find and is of exceptionally high scientific value, as it has allowed scientists to gain a better understanding of the Tyrannosaur family of dinosaurs.  It is estimated that 40 to 60 percent of the skeleton was preserved. The Bisti Beast is not the only specimen discovered within the Bisti. Researchers have discovered numerous other fossils including the duck-billed dinosaur Parasaurolophus, a Pentaceratops, a large sauropod named Alamosaurus, as well as a numerous turtles, fish, crocodiles, and other species.
For more information:
Bureau of Land Management – Farmington Field Office
6251 College Blvd., Suite A
Farmington, NM 87402
A Diné-woman owned pizzeria that makes their pizza from scratch and uses a family recipe to create a delicious crust.
Also offering ice cream, breadsticks, salads, and wings.
Stop by today for lunch and/or dinner! Online ordering is also available!
Ph. (505) 870-1816
Chaco Culture National Historical Park
Chaco Culture National Historical Park preserves a major center of ancestral Puebloan culture dating between 850 and 1250 CE.
Crownpoint, NM
Located 47 miles south of Bisti Badlands on Highway 371. A Navajo Rug Auction was held monthly in this community, please view our website for more information. There is also a Bashas' Supermarket, a restaurant nextdoor – Grandma's – that serves Mexican and American cuisine, and a Wells Fargo Bank. Also within this community is a Diné operated, owned and NM Education Accredited college.
Endless Possibility
NTU believes that every student has the innate ability and intelligence to acquire academic and technical skills.
Students have knowledge about their abilities and skills to enhance their personal, social, economic, and cultural values.
The University is committed to a high quality, student-oriented, hands-on-learning environment based on the Diné cultural principles: Nitsáhákees, Nahátá, Iína, Siihasin.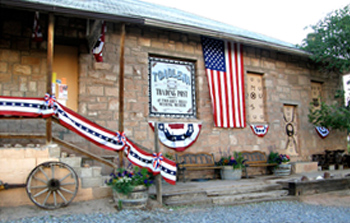 Located in the small community of Toadlena, NM. This is about an hours drive from Bisti Badlands area, west of Highway 491 on Indian Route 19 about 10 miles. This trading post also houses the region's best Navajo Rug weavings of the Two Grey Hills rug design. Established in 1909 by Merit and Bob Smith. The original name for Toadlena was "To'halii" – translated into "Water Bubbling Up."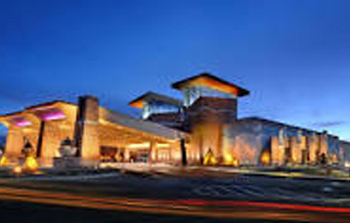 After opening its doors in January, 2012, Northern Edge Navajo Casino has taken gaming in the Four Corners to a whole new level. The unique art along with ultimate gaming expertise combine to provide an experience like no other. Hurry in today to begin your adventure at Northern Edge Navajo Casino!