Excitement Awaits Your Visit
OPEN!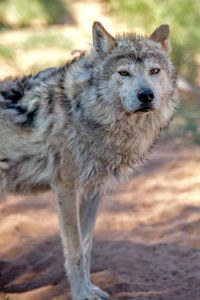 The Navajo Zoo & Botanical Park is open.
Established as a zoo on July 4th, 1977 – The Navajo Nation Zoo and Botanical Park is "a Sanctuary for Nature and the Spirit." The zoo offers the visitor a quiet place to reflect, and a unique opportunity to connect with over 50 animal species native to the Navajo Nation. Here, you can learn about the biology, as well as the traditional importance of animals to the Navajo People. One of the zoos' goals is to help the Navajo People maintain their link to the natural world – through the native plants and animals. The Navajo Nation Zoo is the only Native American owned-and-operated zoo in the U.S and located in the capital city of the Navajo Nation, Window Rock, Arizona within a Tribally-designated park.
The Navajo Zoo has free admission for everyone, although donations are encouraged, and truly do help to meet our daily needs. The Navajo Zoo is not only a sanctuary for people, but also for the animals. Nearly all of the animals come here because they were injured or orphaned in the wild. These issues prevent them from being able to exist in nature as free-living animals; therefore the zoo provides them with expert daily food, care and medical attention when needed.
For more information, visit navajozoo.org