Sacred Canyon Walls
Nowhere in Navajoland is the blend of past tradition and present culture more evident than Canyon de Chelly National Monument. The Navajo people still have a mystical bond to this redstone canyon that cuts an almost tropical path of trees and flowers through the desert.
Canyon de Chelly is home to several periods of Indian culture dating from 350 A.D. to 1300 A.D., and the 26-mile canyon's sheer cliffs range from 30 to more than 1,000 feet, providing a spectacular backdrop for hundreds of Anasazi ruins, as well as modern Navajo homes and farms.
The visitor's center offers details and maps to all of the canyon's many world-famous sites, including Spider Rock, White House Ruins and Canyon del Muerto. From the sandy canyon floor by all-terrain vehicle, or from the rim on a self-guided tour by car, Canyon de Chelly is one of Navajoland's most popular all-day adventures.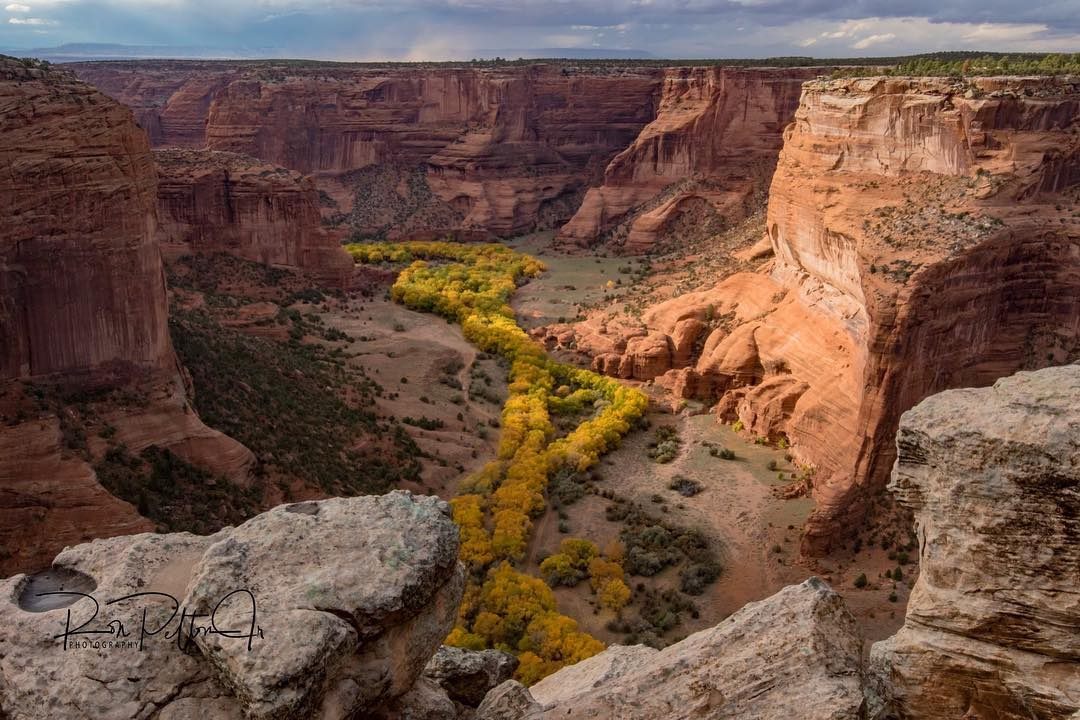 White House Overlook and Trail Closed. One of seven overlooks and the only public trail on the South Rim Drive, are closed until further notice. Park Superintendent announced closure 3/12/20 in response to rash of break-ins.
A 5-Star ★★★★★ Tour Company and has been the Trip Advisor 2011, 2013, 2014 Certificate of Excellence winner.
There are over 2,700 archeological sites within the many canyons of Canyon De Chelly National Monument. Only 13 of the 700 standing ruins have been stabilized, reinforced, or protected from degradation. Professional Navajo guides can teach you the history of the canyons and about the Anasazi, Hopi and Navajo peoples.  Mr. Thomas offers more to visitors than just viewing the scenery, he also provides cultural consulting and lectures.
For more information contact: 
928-349-1600
Click here to email Canyon de Chelly Tours
Experience the beauty and learn about rock art interpretation, geology, anthropology and Navajo storytelling from the Canyon resident guides. Hear the true history of the Diné and the Beauty Way of our people. Our company provides overnight camping, 4×4 Jeep tours and hiking services year round.
For more information contact: 
Website
928-674-5231
Alternate:  928-429-1187
Click to email Antelope House Tours
During your tour we will learn about the people and the events that went on in Canyon de Chelly. We will view the ruins of the early people, and admire their beautiful artwork in the forms of pictographs and petroglyphs, all created by the early people, which included the Hopi and the Navajo people.
• Private Jeep Tours Available.
• Canyon Jeep Tours
For more information contact: 
928-781-2113 or 928-429-4674
Click here to email Arizona Canyon Jeep Tours
Leander Staley as the owner of Beauty Way Jeep Tours (formerly Canyon de Chelly Tours) and is the grandson of the first Navajo tour guide in Canyon de Chelly.  His family has been providing tours through the beautiful and spiritual sights of Canyon de Chellysince 1930. Visitors will be personally guided by a knowledgeable Navajo guide through the history and legends of this mystical canyon with it's magnificent ancient cliff dwellings, mysterious pictographs and petroglyphs.  Driven in a 4×4 jeep, visitors will have plenty of opportunities during the tour for photo stops and sight seeing.
For more information contact: 
Jeep tour from Spider Rock and Antelope House Ruin or Mummy Cave to White House Ruin.
For more information contact: 
 Email Oscar Bia
Changing Hawk Tours
(FORMERLY CHANGING WOMAN TOURS)
For more information contact: 
Thunderbird Lodge is the only authorized provider of group tours in Canyon de Chelly National Monument. Experienced Navajo guides explain the significance of man-made structures and symbols while pointing out natural points of interest. Heavy-duty six-wheel drive touring vehicles are equipped with padded seats to provide a comfortable and memorable experience.
For more information contact: 
1-800-679-2473
928-674-5842
Click here to email Thunderbird Lodge Jeep Tours
Tseyi Jeep Tours
Hire an experienced authorized Navajo guide who was born and raised in Canyon de Chelly near Spider Rock. You will be introduced to the unique beauty of the canyons, the pastoral Navajo Culture, landscape, stories and legends. Explore the geological and historical wonder and observe petroglyphs, pictographs and pre-historic ancient native dwellings.
For more information contact: 
Twin Trails Scenic Tours
Take a walk through time and see the canyons as well as unique and spectacular landscapes. Along the way, your personal guide will show you pictographs, petroglyphs, Anasazi Ruins and much more. They offer both half and all day tours and can accommodate both private and group tours. Enjoy the Canyon de Chelly scenic tour with Twin Trails. Twin Trails Tours is a private native owned business operating 7 days a week and open year round.
For more information contact: 
100 Main Street, Chinle, Arizona 86503
BIA Route 7 @ Garcia's Trading Post, Chinle, Arizona 86503
Check-In: 3pm   Check-Out: 12pm
Rural Route 7, Chinle, Arizona 86503
Check-In: 3pm Check-Out: 11am 
Direct Ph. (928) 674-5842
About a 5 minute drive west of the Canyon de Chelly at the junction of Highway 191 and Indian Route 7 (Main Street). Serves navajo, southwestern and American dishes. Drop by for breakfast, lunch and dinner.
30 miles southeast of Chinle, AZ on Highway 264 near the community of Ganado. One of the oldest trading posts on the Navajo reservation that is still in operation today! Drop by to learn about the trading posts' family history in Ganado and how they interacted with the local Navajo.
Located about 45 minutes east of Chinle, AZ along the Indian Route 12 road. This lake is right next to the road and offers rainbow trout for fishing. You can purchase a Navajo Nation Fishing License at the store on the northwest end of the lake! Gazebos are offered on the opposite side of the road for picnics, family gatherings, etc. Inquire about camping at the general store – their hours vary according to the season. Cellphone service may be limited or non-existent in this area depending upon the cell provider.
A 2-hour drive northwest of Canyon de Chelly.
Located in Window Rock, AZ – an hour drive southeast from Chinle, Arizona.
Spider Rock Campground is open every day throughout the year. For tent and RV campers who love the crisp air, it's "business as usual" in the wintertime! Each hogan includes an interior wood burning stove to help you keep warm. *** Rates vary depending on season.
Please contact the campground for hogan availability and reservations.