Business In the Old West
Blending the old world with the new, the Navajo Nation has preserved some of the old west with these Trading Posts that are still in business today. Many of these are located in the original buildings from the late 1800s and have changed only slightly since then. Selling anything from daily use commodities to artistic Navajo textiles (commonly known as Navajo rugs), handmade pottery & art, these stops along the way are a great way to connect with the Navajo culture of yesterday and today.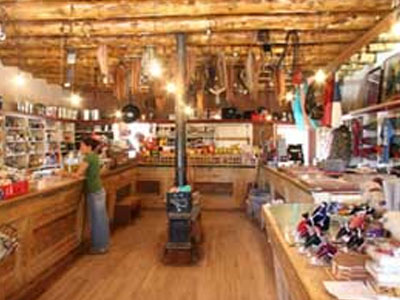 The oldest continuously operating trading post on the Navajo Nation and the United States, Hubbell Trading Post is an important thread in the fabric of Navajo history. Established in 1876, this mercantile and others founded by John Lorenzo Hubbell came to be the lifeline of supplies for Navajos looking to re-establish themselves following the "Long Walk" of 1864. It was also a place for Navajos to meet and socialize in the days before the automobile.
Today, the Trading Post still sells groceries and dry goods, but it is also a National Historic Site, and features a bookstore, exhibits and rug weaving demonstrations. Take a journey back through time as you take part in a self guided tour of the grounds of the original 160 acre homestead, including the trading post, Hubbell home and visitor center.
For more information contact:
P.O. Box 150
Ganado, AZ 86505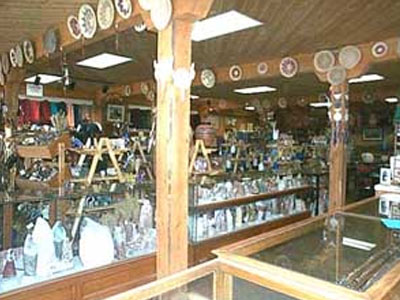 Foutz Trading Co. was established in 1979 in Shiprock, NM on the Navajo Indian Reservation. The president is Bill Foutz, who's family has been traders to the Navajo people, on and off the reservation, for over 100 years.
Bill Foutz Rugs which is our wholesale division, is one of the largest distributors of authentic Navajo Indian Arts and Crafts in the nation.
For more information contact:
Foutz Trading Post
Highway 64
Shiprock, NM 87420
Click here to learn more about Foutz Trading Post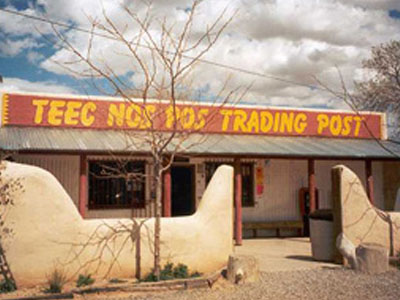 Hambleton Bridger Noel was the last of four brothers to move west to Indian Territory (Fort Defiance, Arizona) in 1898, from Essex County, Virginia. His decision to move to this area was strongly influenced by health concerns. Noel had tuberculosis and he hoped the dry air of the high desert would have a positive influence on his health.
Not all of the local Navajos were in agreement for allowing this bilagáana (white man) to establish a trading post at Teec Nos Pos. A few years earlier in Chaco Canyon (60 miles southeast of the Teec Nos Pos area), Noel had the good fortune to have befriended a sick and hungry Navajo named Black Horse. Black Horse was a large man with a fierce and demonstrative disposition. He was neither a chief nor head of a clan and for good reason, he clearly disliked the bilagáana. However, in 1905 he was at the Teec Nos Pos area and remembered the kindness of Noel and spoke quite strongly on behalf of the trading post being built. In addition, the Navajos appreciated the convenience of having a trading post to avoid travel in bad weather, to buy trade goods, or sell sheep, wool, or hides.
For more information contact:
Teec Nos Pos Trading Post
Box 940
Intersection Highway 160 & 64
Teec Nos Pos, Arizona 86514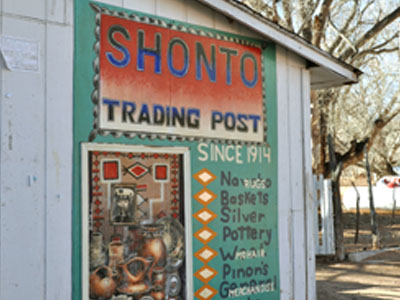 The Shonto Trading Post was first built in 1914 as a trading hub for beads, rugs, pottery, silver, wool, and other goods.
As of late December 2017, the Historic Shonto Trading Post has permanently closed its doors, due to deterioration of the building. The store and its owners have moved 17 miles northwest to Inscription House Trading Post in the community of Ts'ahbiikin, Arizona.
For more information contact: 
Inscription House Trading Post
5300 Bahajooba Way
Tonalea, Arizona 86044
Hours: 8am to 5pm MST
This trading post has been in operation for over 100 years. Two Grey Hills Trading post was built in 1897, famous for its "Two Grey Hills" Navajo rug design. This trading post was operated by Mr. Les Wilson.
For more information, contact: 
Two Grey Hills Trading Post
HCR330, Box 70
Tohatchi, New Mexico
Constructed in 1921, the Oljato Trading Post was owned an constructed by Joseph Hefferman until 1936 when he sold the post. The Oljato Trading Post was recently (2020) stabilized with the partnership between the Oljato Chapter House, San Juan County (Utah) Historial Commision, San Juan (Utah) County, Utah Division of State History, The State Historic Preservation Office (SHPO), The Utah Division of Indian Affairs, and the Navajo Nation Historic Preservation Department. The post was added to the National Register of Historic Places on June 20, 1980.
For more information, contact:
*No verified phone number found for Oljato Trading Post.