Rock with Wings
Located 15 miles southwest of the town of Shiprock, New Mexico is a unique towering, bird-like volcanic rock formation that can be seen for miles in all directions. Shiprock, as this mighty sand-colored column was named by Anglo settlers, is known to the Navajo as "Tsé Bit' a'í", or rock with wings. The peak is 7,178 above sea level, and is at the center of three volcanic pressure ridges that pushed the rock skyward millennia ago.
As this rock formation is sacred to the Navajos – hiking and/or climbing on the sacred peak or its surrounding rocks is forbidden. Also driving onto the dirt road leading to the formation is prohibited – please view and photograph the pinnacle from the paved roadway (Indian Service Route 13 or from US Highway 491). Oversight is provided by the local communities. There are no facilities in the vicinity. Overnight camping is not allowed. Usage of drones – a permit must be obtained from the Navajo Nation Film Office prior to use.
Movie Appearances
Transformers (2007)
John Carter (2012)
Natural Born Killers (1994)
The Host (2013)
The Lone Ranger (2013)
My Darling Clementine (1946)
Baraka (1992)
Beyond the Reach (2014)
Jumanji: The Next Level (2019)
Finch (2021)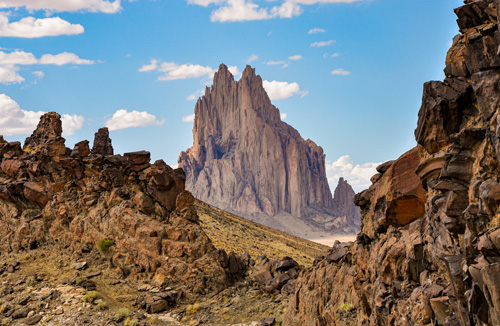 Tours
Navajo Tours USA
This Navajo-owned Tour Company will help you plan your trip to various parts of the New Mexico portion of the Navajo Nation. They offer amenities during their tour. Schedule an appointment through their website below.
TOURS OFFERED on NAVAJOLAND – Hiking, Camping, and can guide night photographers into areas such as the Bisti Badlands area!
For more information contact:
BOOK ONLINE