Self-Guided Tours
Note: On use of Unmanned Aerial Vehicle (UAV) e.g. drones. NO DRONES ALLOWED on Navajo Land. Please abide by all Navajo Nation Laws. Also, NO ROCK CLIMBING on Navajo Land. Please abide by the humble religious requests of the Navajo people and do not climb the Monuments. "Navajo law will be strictly enforced on this issue," Navajo Parks and Recreation Department Manager.
White House Ruins Trail
The view from the rim is quite spectacular, but if you want to get up close to one of the most famous ruins in Canyon de Chelly then take this self guided tour down White House Trail.
This is the only trail at Canyon de Chelly National Monument where a Navajo Guide is not required.
The hiking down the trail is approx. 1.35 miles one way for a round-trip total of 2.7 miles. The trail has been rated from easy to moderate. Make sure to take plenty of water and snacks, take any breaks you need, sunscreen, mosquito repellant, and a hat. Expect the trail walk to take up to 2 hours. *Note: no fee or permit is required. The road leading to trail is paved.
INFO
Wildcat Trail
This is the only self-guided trail in Monument Valley Navajo Tribal park, and it is a 3.2 mile loop that will take up to 3 hours to complete. Bring plenty of water during the hot summer months.
*Note: there is an entry fee to get into the Monument Valley Park at $20 per vehicle up to 4 people, if more than 4 people, there is an additional fee of $8 per person.
Info
Buffalo Pass Picnic Area
At an elevation of 8,482 feet, you will get a spectacular 180 degree eastern facing view of Ute Mountain, Red Valley, La Plata Mountains, and Shiprock peak all at once! You can bring your picnic food items to eat and take in the view, just make sure to PACK-IN and PACK-OUT, do not leave any trash behind.
Ascending the road on Route 13 from Lukachukai, in approx. 5 miles, there is a natural spring on the north side of the road. You may see a family filling up their water tanks or some wildlife.
Be advised, the road can be very dangerous during wet and cold weather. During the winter months, the road may be closed – even if the gates are not closed during winter weather, it is highly advised not to travel this road when it is snowpacked and icy. The road is narrow, steep, and has sharp curves (road is not labeled for semi trucks with trailers). This road is not maintained very often in winter months.
There are 1 gas station on each side of the mountain base –
WESTSIDE of the Chuska – Speedway in Lukachukai at the intersection of Navajo Route 13 and Navajo Route 12.
EASTSIDE of the Chuska – RED ROCK TRADING POST in Red Valley, along Navajo Route 13.
Both gas stations have various food items for purchase and may even have some Navajo vendors offering various sales.
Directions to Buffalo Pass from Shiprock, New Mexico
Directions to Buffalo Pass from Lukachukai, Arizona
Coal Mine Canyon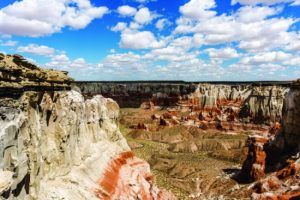 Coalmine Canyon lies on the border of the Navajo Nation and Hopi Tribe. Be aware both Tribes have different rules and regulations regarding the canyon. The Navajo Nation occupies the western portion of the Canyon, while the Hopi Tribe occupies the eastern portion.
The trails are not improved or maintained and are usually marked with rock claims. To reach the trailheads, topographic maps and drives over rough roads are required. Roads can become impassible in wet weather, and conditions can change quickly. Travelers are cautioned to be prepared. To ensure having an enjoyable experience, plan your trip carefully. Most trails are rated strenuous to moderately strenuous, and good physical conditioning is important. Many Navajo families still live on the reservation annually. Please be respectful of homesites and animals in these areas. The terrain is rough, water is scarce, and the weather is often extreme in most areas.
In summer, the trails are hot and dry; in winter, elevations make them subject to severe cold and high winds. Due to the quick changes in the weather, be aware of the dangers of flash floods. While this danger is greatest during the summer monsoon season (July through September), flash floods can occur at any time of the year.
DRONE USE IS NOT AUTHORIZED. Please contact the Navajo Nation TV & Film Office for a permit and more information.
Coalmine Canyon Chapter: 928-280-0700
Cameron Visitors Center- Navajo Parks & Recreation: 928-679-2303
INFO