Good Shepherd Retreat Center
Reservations for the Hozho' Retreat House will be on a first-come-first-serve basis with week-long groups having preference over weekend groups. Small groups may be asked to share space with others. Groups assisting with GSM ministry projects also have preference. Individual reservations are possible when no groups are scheduled. Know that summer is our busiest time. Groups which participate in our Partner Planning Meeting have preference at that time.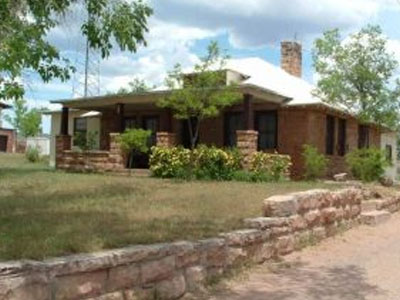 AMENITIES
The Hozho' Retreat House, with 16 beds and 4 couches, sleeps up to 22 people. The kitchen has all major appliances as well as dishes, utensils, pots, pans, and some spices and baking needs. Bed linens, blankets and bathroom towels are also provided. Currently, we do not have formal dining tables inside for large groups. Outside on the porch there are two picnic tables for dining in good weather.
No cleaning service is provided during your stay, so please remember our motto: "Where helping hands are Cherished."
For more information, contact:
Good Shepherd Mission
P.O. Box 618
Fort Defiance, AZ 86504
 1 Kit Carson Drive, Fort Defiance, AZ.